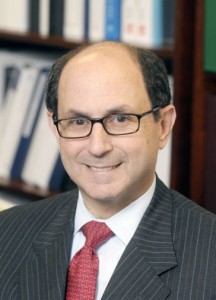 David J. Leffell, MD, a physician, writer, lecturer and researcher, is the David Paige Smith Professor of Dermatology and Surgery, chief of Dermatologic Surgery and Cutaneous Oncology, and former deputy dean for clinical affairs at Yale University School of Medicine. For 15 years, Dr. Leffell also served as the chief executive officer of the Yale Medical Group, one of the country's largest academic medical group practices, providing specialty care in more than 100 medical areas.
Dr. Leffell is an internationally recognized expert in skin health, including skin cancer and plastic reconstruction, laser surgery, and new technologies in dermatology. He specializes in the diagnosis, treatment, and prevention of melanoma and non-melanoma skin cancer and new diagnostic and therapeutic technologies in skin health.
Dr. Leffell founded the skin cancer and skin surgery program at Yale in 1988. He conceived of the program as a venue to provide the highest quality medical care, while pursuing teaching, training and research. His program routinely scores in the 99th percentile in Press Ganey patient satisfaction surveys. He has trained more than 20 fellows in advanced dermatologic surgery and cutaneous oncology, including the specialized Mohs method. More than 150 residents, medical students and foreign visitors have trained in Dr. Leffell's program. The program is one of the largest of its kind in the country, combining sophisticated patient care with cutting edge genetic and public health research.  In close to 30 years in practice, Dr. Leffell has personally treated more than 35,000 patients.
While still in medical training, Dr. Leffell developed and patented a laser method for measuring the aging of skin. He has also collaborated on work clarifying the genetic basis of the cancer-causing ultraviolet rays of the sun. This work represented proof that an environmental agent could directly be linked to a genetic injury that causes cancer. In conjunction with colleagues at Yale, Dr. Leffell was involved in and holds a patent for discovering a new cancer gene for the most common form of skin cancer called basal cell cancer. This discovery may prove helpful in the development of nonsurgical treatments for skin cancer. In fact, a drug based on this target has been developed by Genentech and has demonstrated promising results.
Dr. Leffell is the author or co-author of more than 130 publications, book chapters, and other media. He is an editor of the world's leading textbook of dermatology, Fitzpatrick's Dermatology in General Medicine. He is also author of Manual of Skin Surgery (English and Chinese editions) and the author of Total Skin: The Definitive Guide to Whole Skin Care for Life, a "user-friendly" book intended to educate the general public about skin health. He has held editorial positions with many peer-reviewed journals, including the Archives of Dermatology, The Journal of Dermatologic Surgery and Oncology, and Medical & Surgical Dermatology. Dr. Leffell is also the author of a contribution called "Longevity Strategies" which appears in The Enlightened Bracketologist: The Final Four of Everything, published in 2006.  A popular talk that Dr. Leffell presents on living longer is based on this publication. A chapter on "Looking Younger" appears in the 2009 edition of the book. In 2012 he published CONNECTICUT PASTORAL, with Rebecca Leffell a collection of photographs of northwest Connecticut.
Dr. Leffell received his Bachelors of Science from Yale College and his medical degree from McGill University Faculty of Medicine in Canada. He completed residencies in internal medicine at Cornell Cooperating Hospitals and in dermatology at Yale-New Haven Hospital. At Yale, he also completed a post-doctoral research year as a National Institutes of Health research fellow. Following his residencies, he completed a fellowship in advanced dermatologic surgery at the University of Michigan.
Dr. Leffell lives in New Haven, CT with his wife and two children.   He serves as a trustee of the Hopkins School in New Haven. In addition he is on the board of Validus, Inc., a pharmaceutical concern and Caresync, a healthcare IT company. He has also served on the board of Connecticut Public Television.