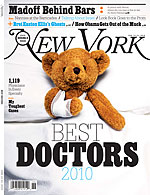 Fifty of New York's best doctors are at Yale Medical Group
New York magazine's 2010 list of the region's top doctors includes 50 Yale Medical Group physicians—practicing in 36 specialties, from dermatology to medical oncology to vascular surgery.
This year's list, published in the June 14 issue, is based on the annual guidebook to the New York metro area's top doctors published by Castle Connolly Medical Ltd., an information and research company in New York City.
Yale Medical Group's strong representation on the New York magazine list in so many different specialties confirms that as Yale Medical Group expands, it is increasingly being seen as the medical care destination of choice in the region," said David J. Leffell, MD, CEO of Yale Medical Group. "We are honored to be able to care for a broader range of patients, including many who might not have thought of coming to Yale before."
Castle Connolly lists what it determines to be the top 10 percent of the area's physicians—  5,300 in all this year. The firm conducts a peer-review survey to ask, among other things, who doctors would send their own family members to. It seeks out doctors who are highly regarded for their professional qualifications and reputations, as well as listening and communication skills, empathy and ability to instill trust in confidence in patients.
In its 13th annual Best Doctors issue, New York magazine publishes a shorter list—1,119 doctors in 66 specialties.
See the entire list at the Yale Medical Group website.